Sep 3, 2020 02:02 PM Central
Amanda Rog
If you have read many of my blogs, you know that in my family of 5, 3 of us have special dietary needs. That often makes it super hard to find a meal that we can all enjoy and isn't a ton of extra time and work for me in the kitchen. If you think gluten, sugar, and dairy free are hard to work with, try adding no pork and no eggs to the list. Goodbye breakfast ideas...or maybe not!
We often like to have breakfast for dinner. It's a favorite in my house. I usually serve it with fruit or a smoothie so that we get in some of those extra nutrients. However, I had been holding off on it due to some of our newfound dietary needs. Just how do you make a breakfast with no pork (hello, bacon!...and sausage) and no eggs?? Oh, and did I mention that the no dairy also means no butter? That's unheard of, right? Wrong!!
That's when I came across this recipe and tweaked it a bit to suit our families needs.
Gluten-Free Pancakes (no egg, no dairy)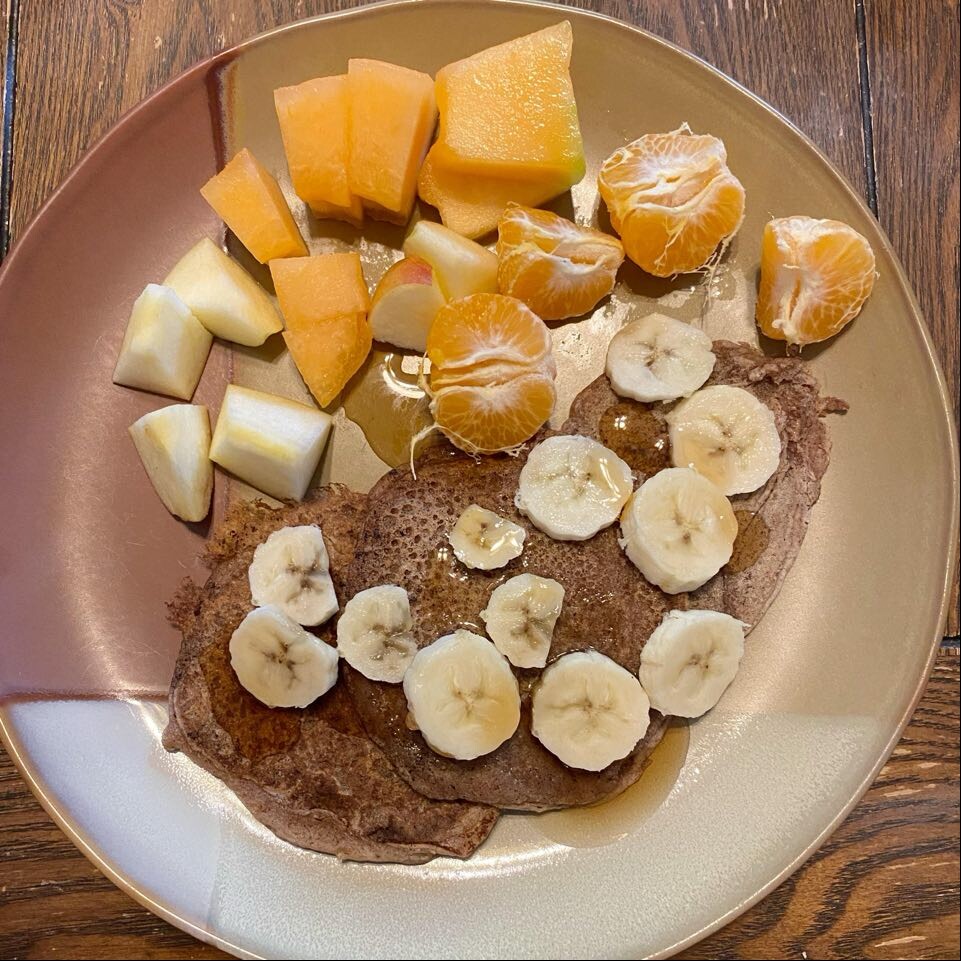 Ingredients
1 cup gluten-free 1 for 1 flour

1 Tbs ground flaxseed (flax meal)

2 tsp baking powder

2 tsp ground cinnamon

1/4 tsp himalayan salt (or sea salt)

2 Tbs pure maple syrup (can also use honey)

1 tsp vanilla

1/4 cup buttermilk (see note)

1 cup almond milk
Instructions
Grease griddle and preheat (see notes for suggestion).

In mixing bowl, combine flour, flax meal, baking powder, cinnamon, and salt. You can sift if you want it more fine. I skip this step because it seems to work fine to just mix it.

In another bowl, combine maple syrup, vanilla, buttermilk (see note), and almond milk. Slowly mix in half of the liquid into the dry ingredients. Stir continually as you add the rest, 1/4 cup at a time. This helps keep it from being too runny. Mix until all the lumps are out of the batter.

Place about 1/4 cup of mix onto prepared hot griddle.

Cook for 1-2 minutes, or until they start to bubble around the edges. Flip and cook the other side for an additional 1-2 minutes. Remove and serve.
NOTES:
To make buttermilk, add 1 TBS of lemon juice to 1 cup of almond milk. Let stand for 5 min.