Nov 3, 2022 01:36 PM Central
Amanda Rog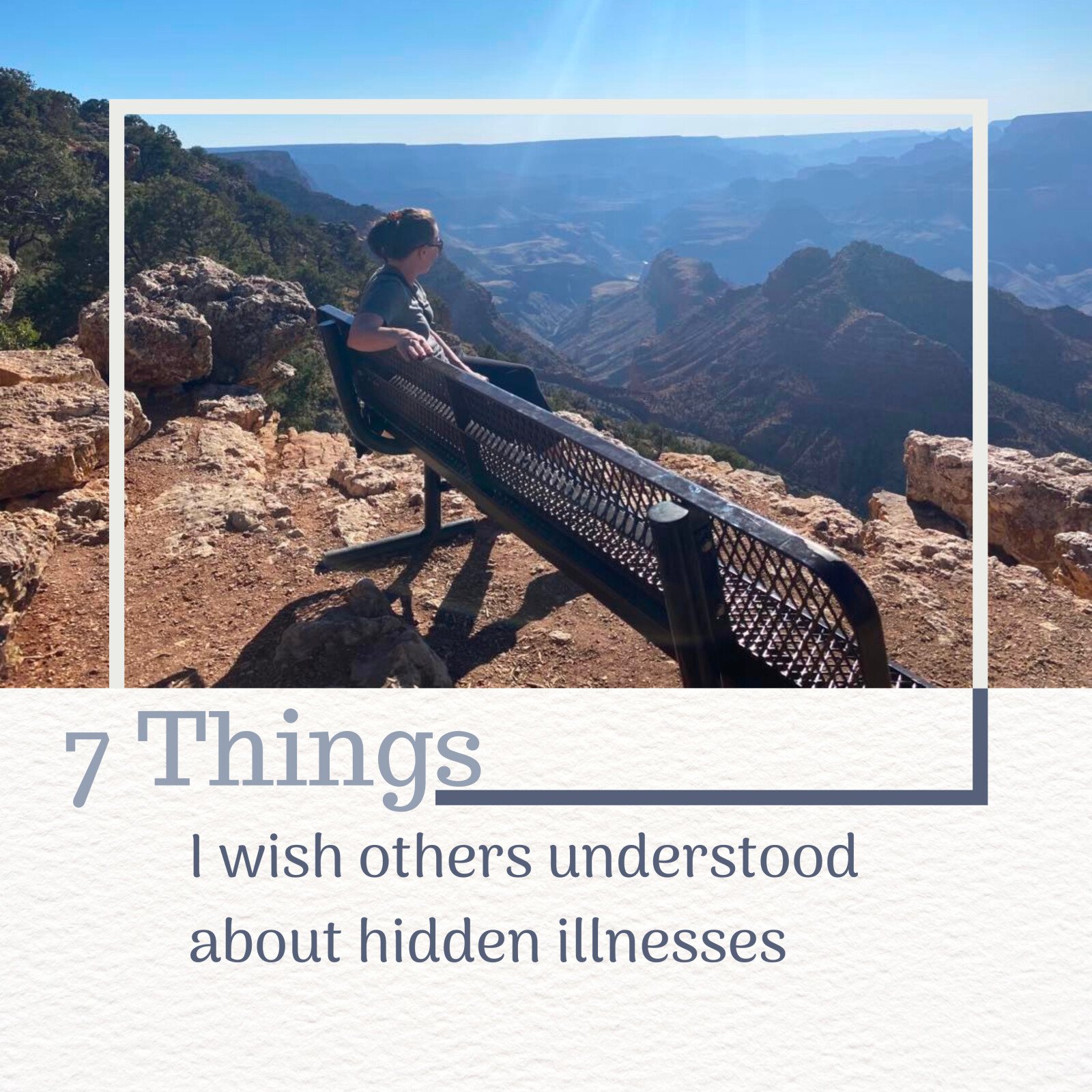 Having a hidden illness can be quite challenging at times. On the surface, everything may look just fine. But on the inside there is so much turmoil that is going on. Maybe you are good at putting on that happy face and getting through the day, making it hard for others to see that you truly are struggling. I have dealt with a few different "hidden illnesses" like anxiety, depression, and lyme disease. Here are a few things I wish others understood about these "hidden illnesses".
1."You don't look sick" - So many times it is assumed that we are faking our illness, just because it can't be seen. I have even been told, "you're faking it" straight to my face. Just because I don't constantly complain and tell you everything that is happening inside my body, doesn't mean that it isn't real. Just because you can't see it on the outside doesn't mean all is well.
2. Guilt - This is a big one. Guilt for not being able to do as much at home, at work, etc. Guilt for not having the energy that is expected. Guilt for not being able to 100% be there for your partner. Guilt for sucking all of the finances for your treatments. The list goes on and it can really wear on you if you let it. It can easily be a constant feeling of "I'm not enough".
3. Fatigue - Wearing out easily, needing a nap in the afternoon, needing a solid 8 hours of sleep to be able to fully function the next day..our society today really doesn't work that way, which makes it hard when it's something you are facing. You are seen as lazy and no good.
4.Special dietary needs - Just because I look like I'm healthy doesn't mean I can eat anything I want. So many people are surprised when they hear that I have a special diet. They often say, "you don't need to be on a diet." Well, yes, I do! Being conscious of what I put into my body plays a huge part in how well I do (or don't) handle things. I've also had it held against me that I can't eat everything that everyone else eats. Not because I complain. In fact, I often tell people not to worry about me. I'm pretty good at fending for myself and making sure I haven something I can eat. I never expect others to cater to me.
5. Unexpected pain - I can't tell you the number of times I have asked someone to lighten up their grip while holding my hand. Often times it's seen as me being a wimp and as someone who has a low pain tolerance. This is one of the things that upsets me the most. If people only understood the amount of pain I have on a daily basis, from head to toe, they would understand that simple things hurt. But it's not because of a low pain tolerance. I like to explain it like this: if you are in such pain that something so simple hurts and it's that simple thing that pushes you over the edge, doesn't it make sense to control the one little thing you can by asking them to loosen their grip? It's kind of like that piece of hay that broke the camels back.
6. Brain Fog is real. You may tell me something and I may seem to comprehend. But that doesn't mean that 5 minutes later I will fully grasp what just happened. Being in the kitchen and making a meal that should be simple, is also often complicated because I forget that I had butter on the stove to melt so that I can saute some onions. Then suddenly there's smoke on the stove and I remember what I was supposed to be doing. The struggle is real!
7. "You should be doing more" - This one kind of ties in a few of the ones I mentioned above. I often feel that people think I'm not doing enough. After all, I am a stay-at-home mom. Shouldn't I have all the time in the world? And on another note, since I have all this supposed time, why don't I go out and get a job and help with the finances? Didn't I just say that I feel guilty for sucking all the money to help with my treatments? And since I "appear" to be healthy, then I should just go out and get a real job...right? The truth is that no one knows that someone else is going through. Often times, even when it's the same illness, everyone handles it differently. So offer grace. Just because you do not understand that doesn't mean it isn't true for the one going through it.
So, to sum it up:
I look like I'm fine. If I don't tell you I'm having a bad day, you may assume all is well. What I'm not saying is this:
I'm in constant pain from head to toe.
I'm always tired.
It takes me at least twice (sometimes three) times a long to do a simple task as it should.
Things often don't register in my head like they should. So it may seem simple but it isn't.
I'm not saying all of this to complain or for sympathy. I just want to be a voice for the loved one in your life who may be dealing with some of these things. Yes, some take things to the extreme and maybe could do more. But if someone appears to be doing just fine, but you know they have an illness/condition they are dealing with, maybe give them a little grace and offer a helping hand when you can.
We all have trials in life. God never told us this life would be easy. But if God can offer grace to a sinner, then why can we not offer grace to each other when we are going through different trials in life?
"A new commandment
I give to you, that you love one another: just as I have loved you, you also are to love one another." John 13:34
Sep 29, 2022 01:39 PM Central
Amanda Rog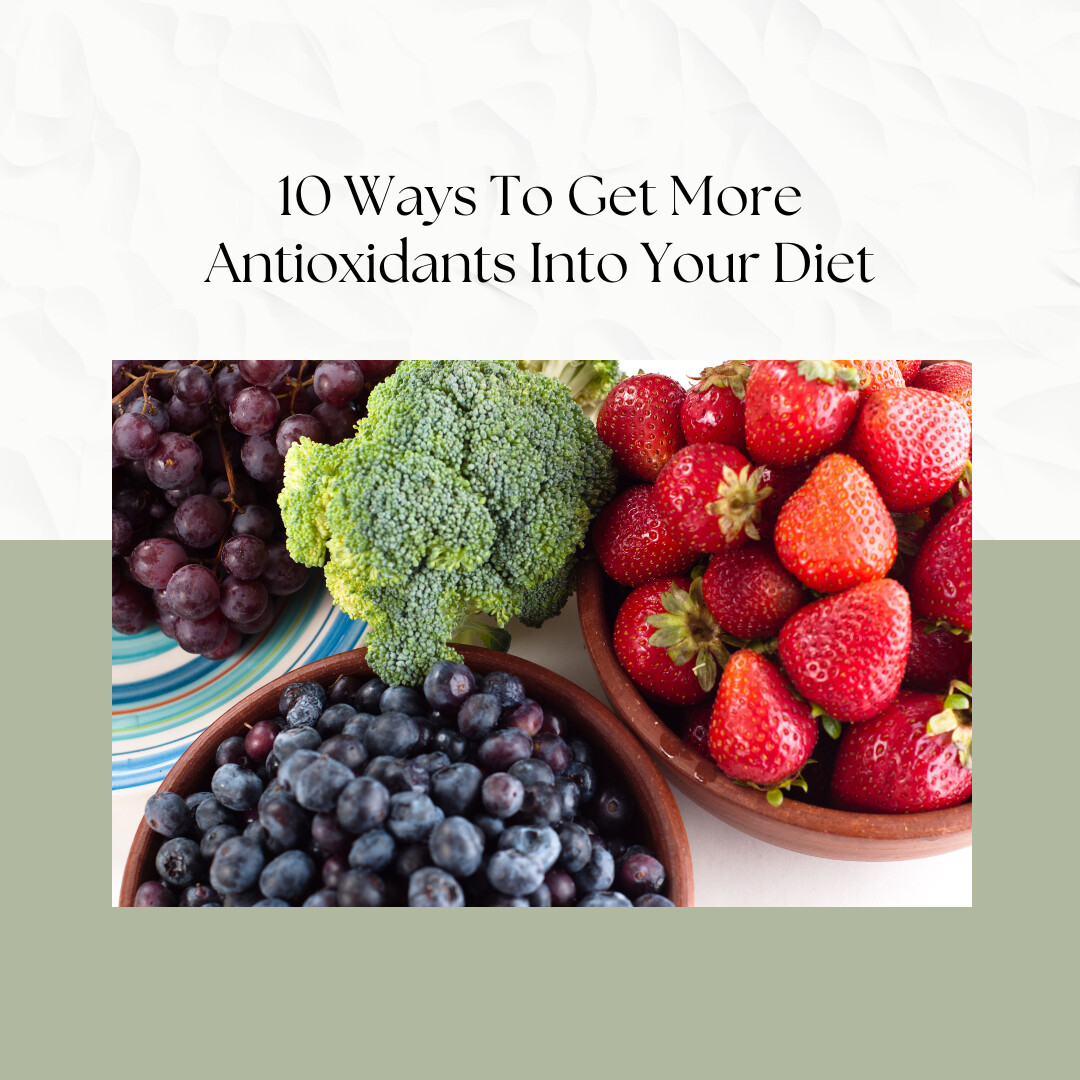 It's no secret that antioxidants are incredibly beneficial to good health. It's believed the antioxidants in food can help prevent cancer, reverse or slow aging, enhance your immune system (which we could all use this time of year!), increase your energy and improve heart and other organ health.
With all the information we have about antioxidants and their benefits, it's amazing that more people don't get enough in their daily diets. It is recommend to have at least 5 servings of fruits and vegetables daily, but to really pack a punch getting 7-10 servings is best.
Here are 10 ways you can get more antioxidants into your diet.
Breakfast doesn't have to be a hurried pop tart on the way out the door. Try throwing some fruit, 100% juice and yogurt into a blender for a delicious smoothie. Then pour your smoothie into a cup and sip on it as you go. This can add one to three servings of fruits to your daily intake. Or add some berries into your cold or hot cereal.
If you are making a stop to grab something on the run, try ordering
a fruit and yogurt parfait or a fruit cup.
How about a handful of raisins for a snack, or some fresh red grapes? Or dip some strawberries in yogurt. The berries will provide the color you're looking for. Remember to eat the colors of the rainbow!
Need crunch? How about some baby carrots dipped in hummus? Or have a handful of pecans for crunch and a nice antioxidant boost.
Adding a salad to each of your main daily meals can add loads to your overall health and well-being. They don't have to be boring and they don't have to be just salad greens. If you're going classic, add some red pepper slices to your green salad, some tomatoes to the Greek salad, or tart cranberries to your field greens. Whip up a broccoli or carrot salad for lunch, or be adventurous and mix up a rice salad with some fresh vegetables like string beans, tomatoes, peppers and red onions.
Berries, with or without whipped cream or chocolate are a wonderful way to end your day with a healthy, antioxidant-rich treat.
Replace your soft drink with tea or coffee, both of which boast antioxidant compounds. Or for a real change of pace, pour a glass of chai tea.
Did you know that powerful antioxidants can also be found in a variety of other foods like russet potatoes, artichokes, and small red beans. The beans, in fact, may have more antioxidant power than blueberries. So try adding some beans to your rice bowl full of vegetables for even more antioxidants.
You think you're on the right track by preparing vegetables each night for your family's dinner. But if you're overcooking the vegetables, you're cooking out a lot of the beneficial properties of the antioxidants. Steam (don't boil) vegetables and stop cooking them when they have all of their bright color and most of their bite.
People who plant and harvest vegetables from their own gardens are far more likely to eat more vegetables and fruits than those who buy their produce from the store. So plant a garden, watch it grow and eat the fruits (literally) of your labor. (Check out the link below for info on how you can grow some amazing produce from inside your home, year round!)
9.Take your healthy diet on vacation
We often consider going on vacation an opportunity to take a vacation from everything, including healthy eating. Instead, use vacation as a way to be introduced to new foods. Order an interesting vegetable dish in a restaurant and maybe even find a new favorite dish to add to your menu at home.
If you're cooking, you're not opening bags and boxes. Cooking involves scrubbing and peeling vegetables, preparing whole foods and paying attention to how things are cooked. If you're ordering out every night, you're far less likely to be eating the whole foods and natural fruits and vegetables that provide the base for your antioxidant intake.
Following these 10 steps can help set you up for great success in adding all of those amazing God-given antioxidant rich foods to your diet.
Want to be able to grow your own food year round? Check out this
tower garden
. I absolutely LOVE mine!